I took a little vacation. Wow! Well, it was a stay-cation. I took about 4 days off work + weekend and attended the online Wild Wonder Conference in mid-September. The above is one of the last things I drew for it. That's my dog Wally's eye from after a workshop just about painting eyes.
Of course, the first thing I did was get stung in my right palm (right-handed) and it hurt so bad it went all the way up to my shoulder for the first day and took most of the conference to stop hurting. By Monday (the conference was Wednesday through Sunday), it was just itchy and only a bit painful. Above is the stinger I pulled out of my palm. No bug, just the stinger and insect butt. If you know the size of a waterbrush pen, you can see how big it is.
I mean, look at that monster!!!
Anyway, every day there was a "challenge." So I am sharing them here with you, now.
Here's day 1: Playful. I drew the stinger, yes. And mentioned It's Always Sunny in Philadelphia because we have a Ponderosa pine in our "front yard" and it always makes me think of that show. So I drew one of the Ponderosas.
Day 2: Putting yourself in the page. I know it says "inspiration," but I spaced out when they were describing the challenge. I just happened to do the right one anyway! This is the view out the window to my left while at the conference (I was sitting in my living room watching it on our TV), over my driveway. For the challenge, the do a drawing each day for a random winner to get a gift certificate to John Muir Law's store and I won!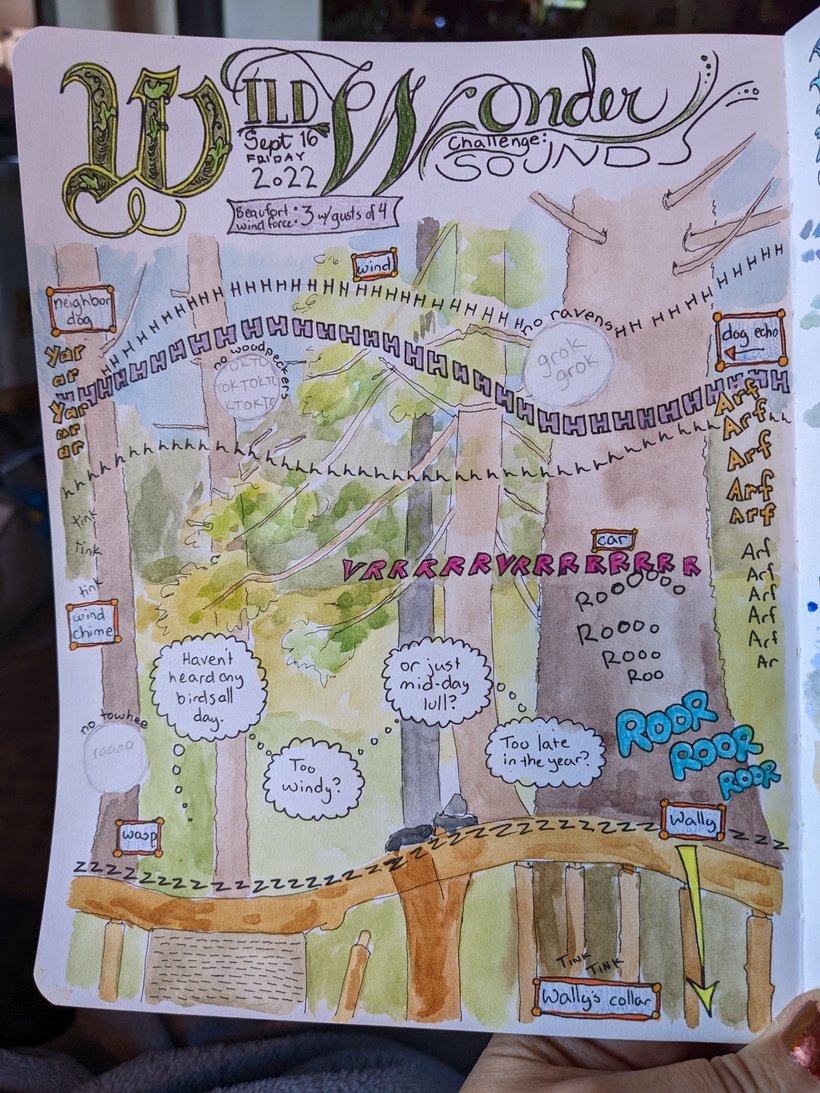 Day 3: Sound! Of course, I went out to my porch for lunch and it was deadly silent. So I have been listening more and it is definitely quieter around lunch. First thing in the morning, very loud. I correctly identified a Northern flicker based solely on the silhouette and call (it sounded like someone squeaking a sponge while washing a mug). You might also note the more elaborate heading on this page. I started doing them the night before. 
Day 4: We were supposed to do a page and then come back later in the day and look into it more, but I did this super late at night so I made a little still life from various items I have been carrying around with me. This is gouache because we had just done a workshop on gouache. That stuff is rad and I have some fresh, new gouache coming in the mail so I can experiment more!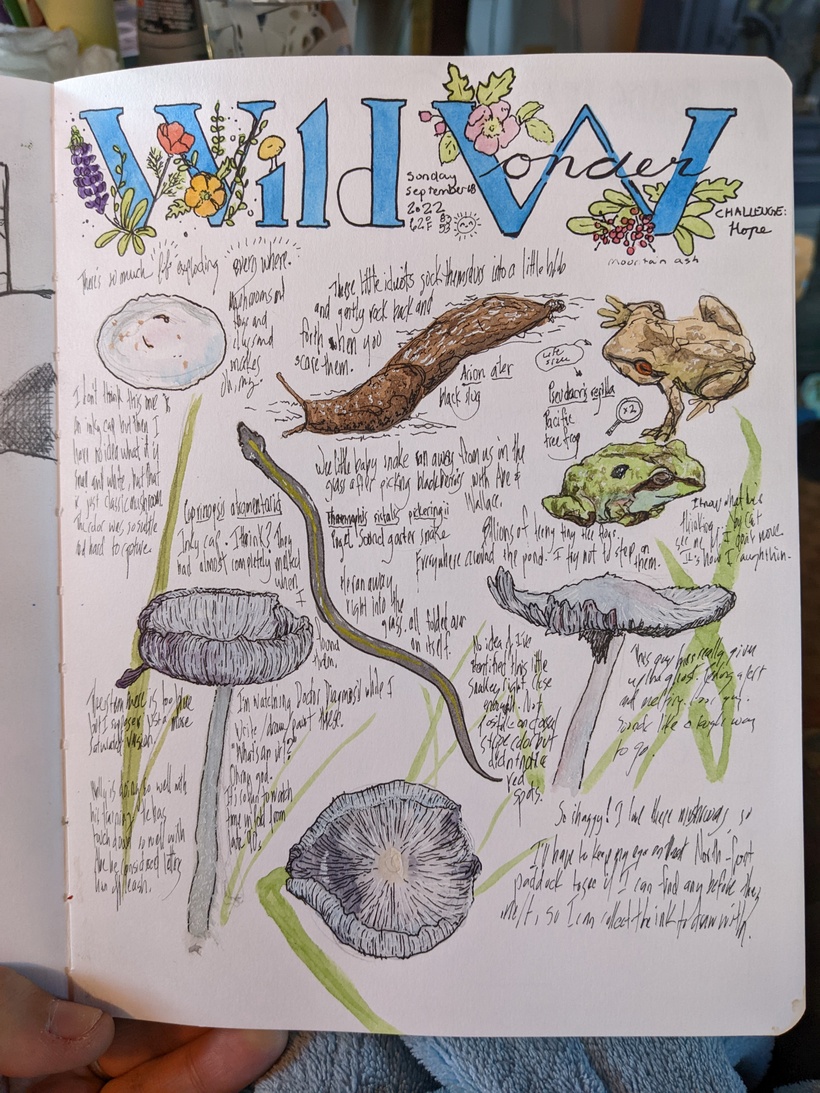 Day 5: Last day: Hope. New life. Well, also old life. The inky caps there had sprouted and melted away to this point before I noticed them. Which is sad because I love inky caps. I drew this all from memory and photos because there are wasps outside and I hate bugs. Yes, ironic. I know.
More later!