I found the top nine liked images from my Instagram and it includes more of my face then I would expect. But it is a good list! Reading across, let's see what we have.
Ida and Ambrose from my Beatrix Murders. I have inked pages 9 and 10. They are ready for a-watercoloring. The whole book is laid out and my goal is to finish all 26 illustrations by April. I could do it faster, but I have several other projects underway that have contractual due dates, so those have priority. It is going really well, though.  Here is the second illustration. It gives you a decent idea of what to expect.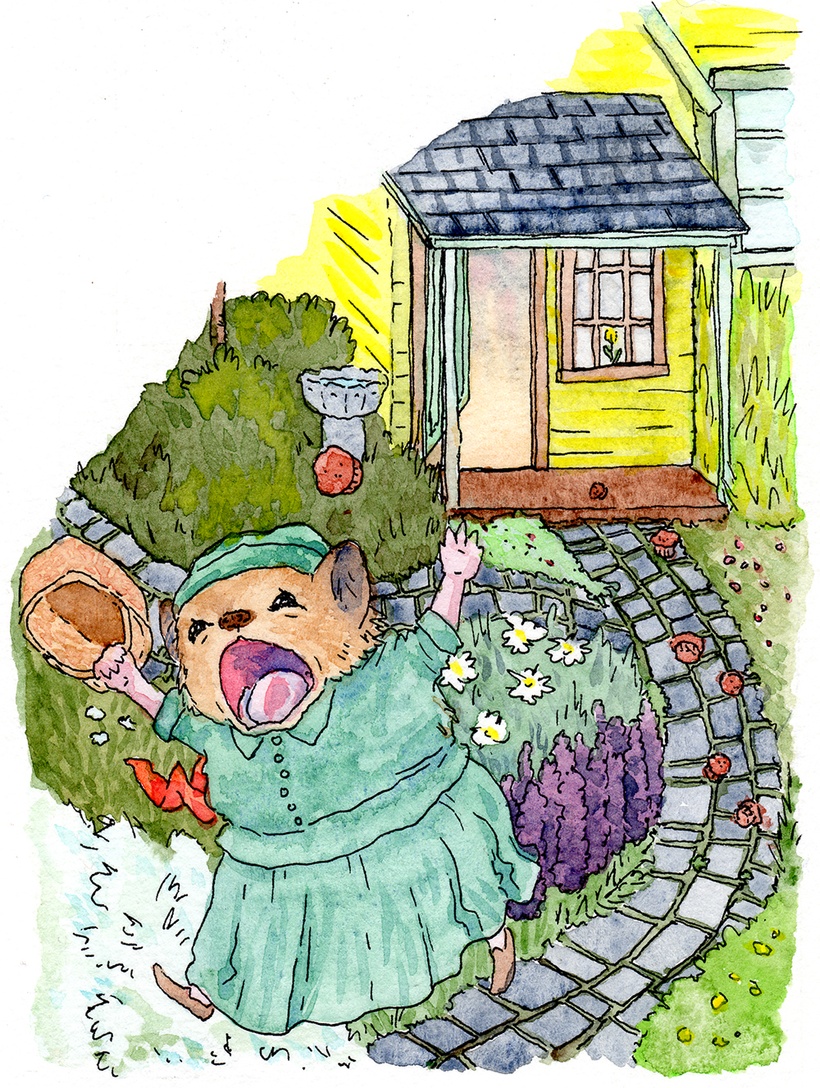 Second is my booth at Shortrun in November. It was an absolutely fantastic show. I do hope I get in this year, too. But I got in from the waiting list in 2019. This time, I will bring way more Awesome 'Possum. But I hope to also have the above Beatrix Murder finished!
Third is my part of the invitation for our wedding party. The party itself was very fun. I got to see wonderful people and drink lots of tea. Abe is a wonderful human being, so I would have a party every year to celebrate that.
Fourth is my booth at Olympia Comics Fest, one of my favorite shows, run by one of my favorite comic book shops (Danger Room). This is always a fun show. Nothing in particular happened this year, but I did get the Danger Room t-shirt that Emil Ferris (My Favorite Thing Is Monsters) did for them. And everyone there is always lovely. The only bad part was that my favorite sandwich shop, 5th Ave Sandwiches (I honestly don't know if that was the name), closed their doors. So I had some lame unmemorable lunch instead. I think it was greasy.
Fifth was actually a "draw this in your style" challenge. Those are great when you are feeling uninspired by want to put pen to paper. This was done with a fountain pen. The lines are thicker and more static than I had hoped, but I turned out to like it.
Sixth is a page from the Badger Murders. I have plans to get back to it, but I need to flesh out the story. I can't be a gardener storyteller, as much as I would like to. I am definitely an architect. I like to work out the whole story and work into finer and finer detail until I am drawing pages. 
Seventh is my reference for Earthly Remains, pulling out my own teeth. Gross. I can't believe that made it in the top 9. It is a good reminder that I got into an anthology this year, Dark Lady Returns. I have the thumbnails to make a cover, I just need to do it. It is a rather large comic at letter size. I might print it a bit smaller. I have my Artema 3 pencils due at the end of the month and this might be a good palette cleanser project since it will be so quick.
Eighth is the character sketches for the fat little corgi in Sips in the Afternoon, what I called the little tea comic I made of the old man. I love this comic and enjoyed the (brief) gardening style of storytelling. I can only get 10 or so pages on an unplanned story without needing a more detailed plan.
Finally, here I am with my painting of a fledgling Northern flicker. The painting is based on photos Abe took of a little fledgling that we found in our driveway back when we lived in Seattle. This piece sold, which is great. I love the framing and everything about it. It was up at Aljoya on Mercer Island in a show with the Guild of Natural Science Illustrators Northwest.  We got to have tables on opening night to hawk our wares. It was really fun talking to the folks who lived there and their families.