My partner, Abe, and I got married back in February, and we are having the party in July. I love how our invitations turned out, so I thought I would share a bit about them here. I did the front, Abe did the back. We are both artsy in our own ways, so it worked out great. And Abe has been sucking up design through osmosis because he works for the Design Department at Western Washington University. He had much stronger font and design opinions than in the past, which was wonderful.
We were having a hard time coming up with a decent party idea that wasn't just a boring potluck. Abe came up with the idea of a tea party, because I love tea so much. We've done a small one before for my birthday, just five people. We made a bunch of different sandwiches and got a bunch of different tiny deserts. It was great. This is much bigger. I am thinking around 80 people. That's a lot of tiny sandwiches. Abe is baking all the gluteny bread for it! Plus I am baking a yellow cake with chocolate frosting, a bakewell tart, and something else that I always forget but have written down somewhere. Ah, found it: carrot. That might change, but it might not. I do love carrot cake. 
So that is why the weird tea cups. It is also at my mom's place where there is a pond or two, hence floating in a pond. I just did this in my sketchbook. Penciled, then inked with my Carbon Platinum pen. Then colored with my Copic markers after erasing. I am really on a Copic marker kick lately. They are just so fun to use. I looked at teacups on Pinterest for the designs. I have no idea what I am wearing and my hair color is more an "I wish" than reality. But Abe's shirt is one we just got him at Goodwill. It has cool wooden buttons and everything. Great find. I also drew Abe with chops even though he shaved them off like a mook. (No offense, darling.)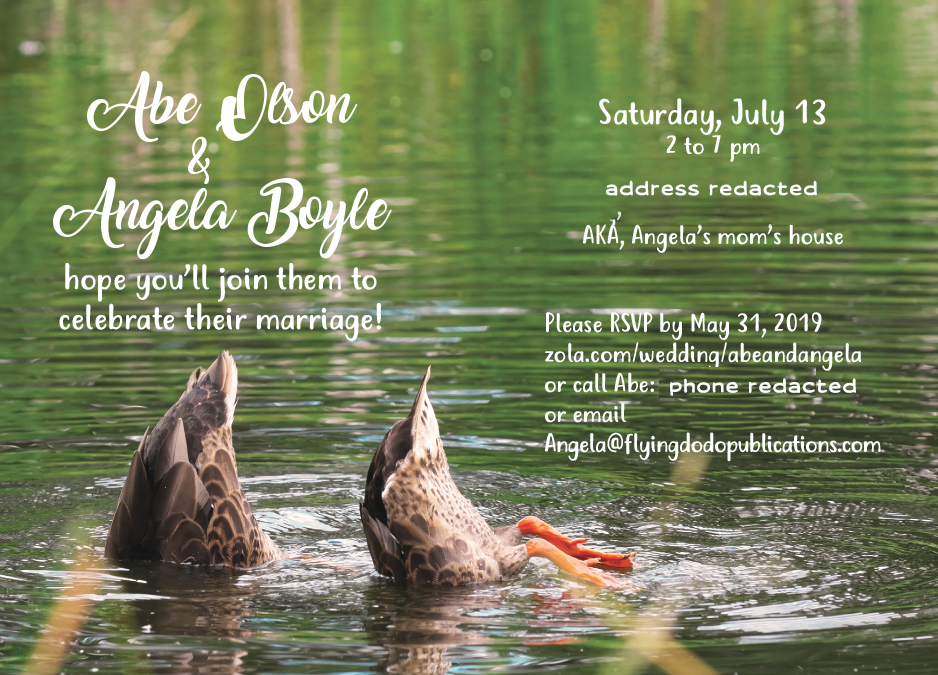 Onto the back, this is a photo by Abe. He is becoming a really amazing photographer, so I highly recommend looking over his site. Anyways, we found free fonts on dafont.com that we both like. Wording was tricky because we are already married, so what are we celebrating. It isn't really a wedding reception because it is 5 months after the wedding. Anyways, if you go to the wedding website, you can read the tale of how we met and also about the actual wedding.
So we intended to get these in the mail by April 15, but due to printing problems, like not finding a printer and then not having the right files, it took about an extra week. But they are all out now and only one has been returned. If you have any questions about  We also got distracted on printing day because we decided to go to our nephew's flag football game. But we took so long with printing that we only caught the last 15 minutes of the last game. They won both, FYI. It was worth it because then we got to hang out with Abe's brother and our nephew for lunch. Mexican food followed by frozen yogurt and I was full for about three days.