Another of the poems I illustrated for the Sue C. Boynton Poetry Contest went up. This was a fun one to do because adult sockeye are so cool looking. Water by Salmon by Phelps McIlvaine won a merit award. I thought about doing something weirder like a salmon shape painted like the universe or water, but I like the simplicity of this better.
Abe is who suggested the sockeye salmon. I don't know much about salmon, though it feels like I should having grown up and lived mostly in the Pacific Northwest. So I started with some sketches. I also typed up the poem at in the font at the size of the final so I would know how much room I would have. That is the diagram in the lower right.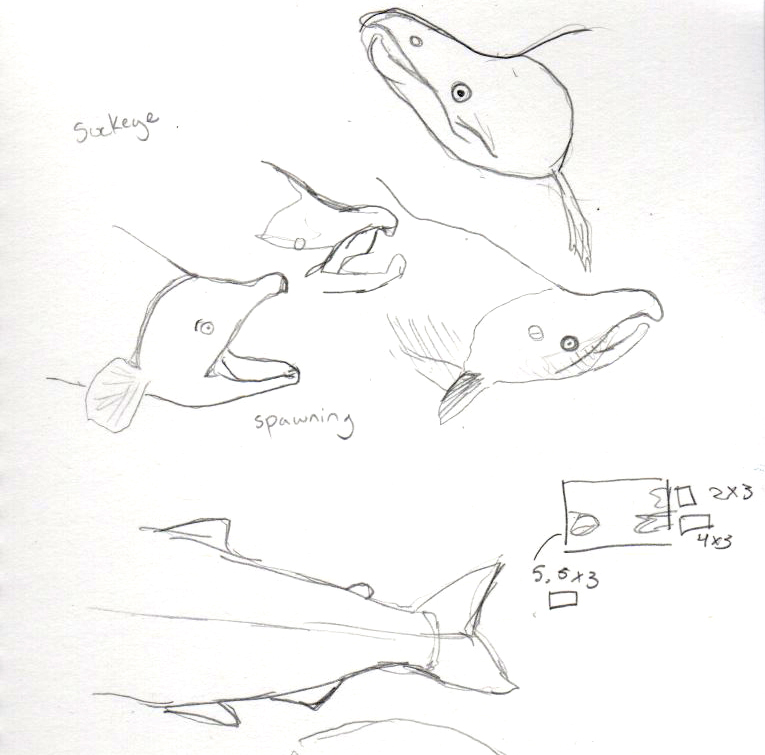 From there, I penciled the spawning face of the sockeye and the young tails. The red marks the area I had to work with. This also shows the relation of the painting pieces as they are on the original. Some day I might get the courage to go back and paint a background on the original instead of the simple white paper it is now.
After penciling, I used a light box to ink. Then waited 24 hours and did the watercolor. This was exciting because red can be so hard to get vibrant in watercolor. This time I used liquid watercolor for only the red. Wowee, that is nice. I will have to do more experiments with that.
The above guy has a digitally added blue background. But I felt the simple solid blue didn't do the watercolored salmon justice. For my experimental part of this illustration, it wasn't much of a leap, but I was trying to do the simplest inks and colors. I wanted the inks to give the basic details needed. And then I wanted the watercolor to provide interesting color and that's about it. I let the watercolor do it's thing, applying it really wet and "patiently" waiting for it to dry.