Here is another illustrations to accompany one of the winning poems for the Sue C. Boynton Poetry Contest here in Bellingham, WA. Because it is poetry, you don't want to be too literal, so I had to read and think on the poems. I suppose you could say I cheated because I discussed them with my mom, an actual poet. I am definitely not. 
This illustration was for a very short and difficult poem, metric by Tor. I had no idea what it was about (on the Boynton post, they say it is about  the song "Eclipse" by the band Metric) but had a lot of fun making this illustration. Yes I had to make a sketch of the moon. I wanted to get the darks and lights at least a bit resembling the actual moon.
This piece is done all in ink wash. Lots of wet on wet. I just used my carbon platinum ink and a big bowl of water. What a mess, but what fun! I think I didn't even drip on myself, though you can see I had a huge dam of paper towels collecting overrun at the bottom. And I use so much blue tape. I am always losing them so I have like 5 rolls around the apartment.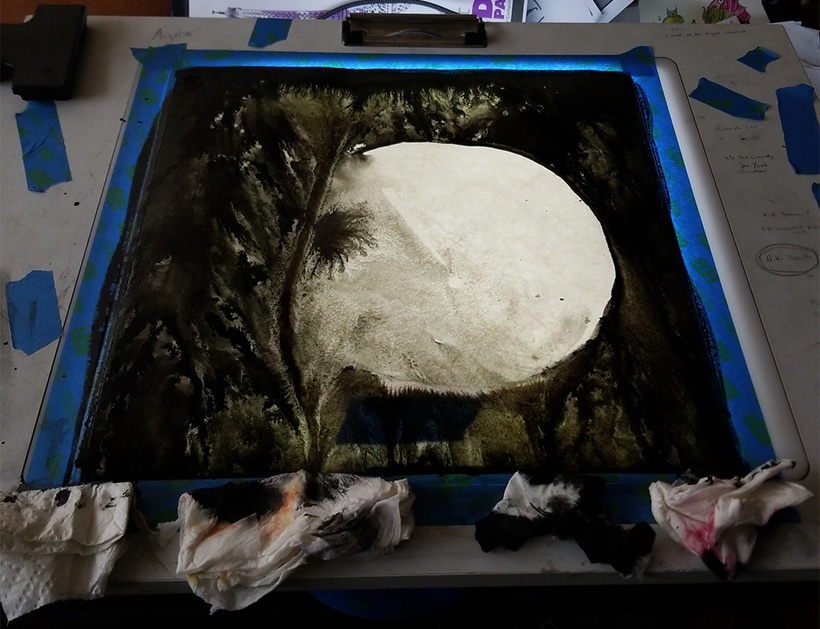 The original artwork is at the top. I used that and a black image of the sky to make this image, which was used on the broadside. I love how it turned out.