The art show at Aljoya was pretty fun! There was some really beautiful art and the people were fun. I got to talk with some of the Aljoya residents. And with some of my friends from my natural science illustration class! I brought a bunch of comics and people were really intrigued. Since it was a natural science art show rather than the usual comic show I attend, it was interesting to talk about the other side of things. Instead of explaining the science portion as much, I talked a lot about using the medium of comics. 
I also sold one of my paintings to a friend, the above Try Again and Hit the Sky (fledgling Northern flicker). It is one of my favorite paintings, so I am really glad I sold it to someone I know. He wanted to know the story behind the painting, so I figured I would post about it here. 
As you may or may not know, my partner, Abe, is an avid nature photographer. Back when we were living in Seattle, we were at the end of a driveway, so in front of our house was mostly cement. And every spring, we could hear baby birds in the walls. Because they were Norther flickers and Northern flickers are protected, the building owner couldn't really do anything about it. It drove our dogs, Nisa and Ernie, nuts.
One day, Abe found a little fledgling Northern flicker in the driveway. Learning to fly, it needed to jump off something to get going. Abe was really worried because it was getting dark, so he called Animal Control and they said to leave it and if it is still there in 24 hours, they might come get it. So he waited and took a bunch of pictures of the little guy. He tried climbing up this cinder block to get enough height to fly. It was much too short. 
The next day, the fledgling was still out there. But it had found a tree to climb up. The mother was there and calling to it. We both had to go to work, but when we got home, the fledgling was gone! So we believe it flew away.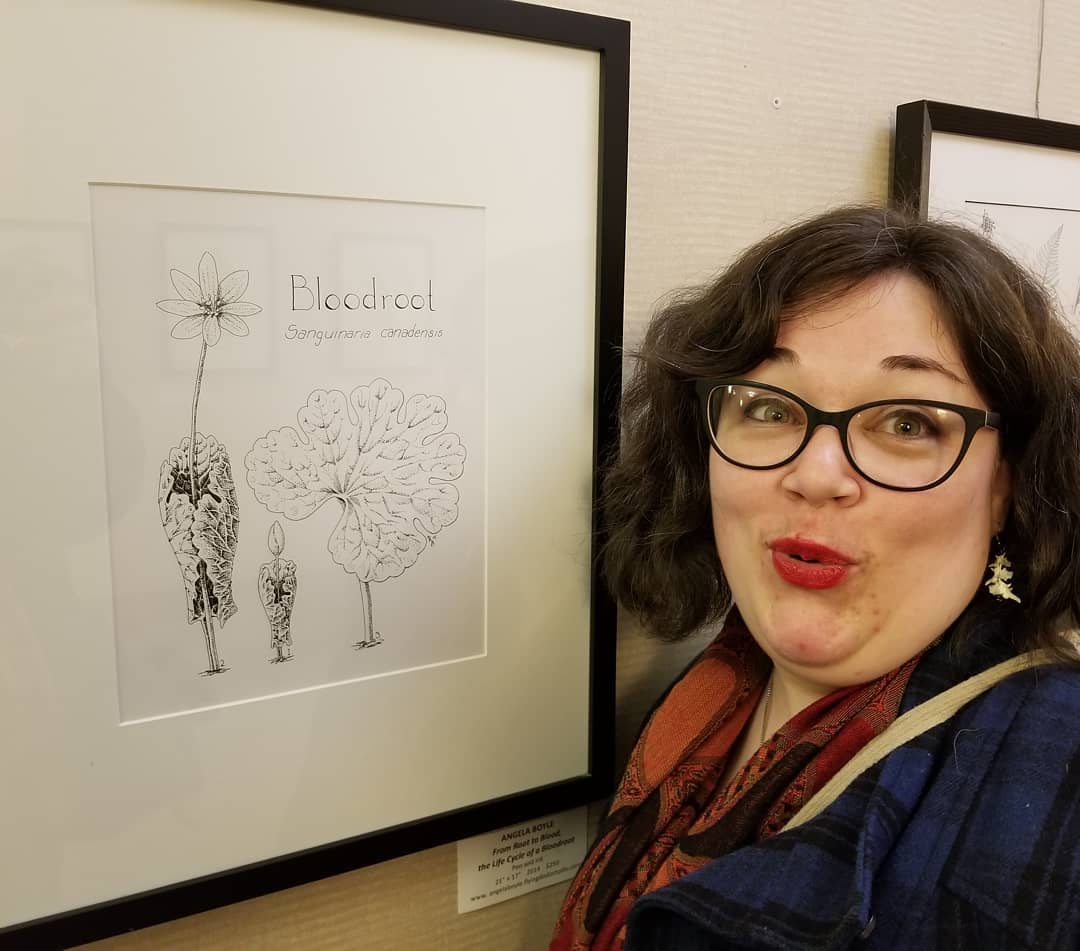 I have two other pieces up in the show. One is this blood root illustration, From Root to Blood: The Lifecycle of a Bloodroot. I originally did this illustration for Shing Khor's horror anthology Bloodroot, issue 1, for the interior cover.  This was the third picture Abe had to take of me and I was getting sick of it already. 
And the other piece is this collection of feathers from a red-tailed hawk: Feathers of a Bird Stick Together. In Vermont, Abe and I got a private sitting with a red-tailed hawk and a kestrel. It was pretty amazing. The kestrel had brain damage and couldn't shut up. Abe took a ton of photos, I think including a set of red-tailed hawk feathers that I painted these from.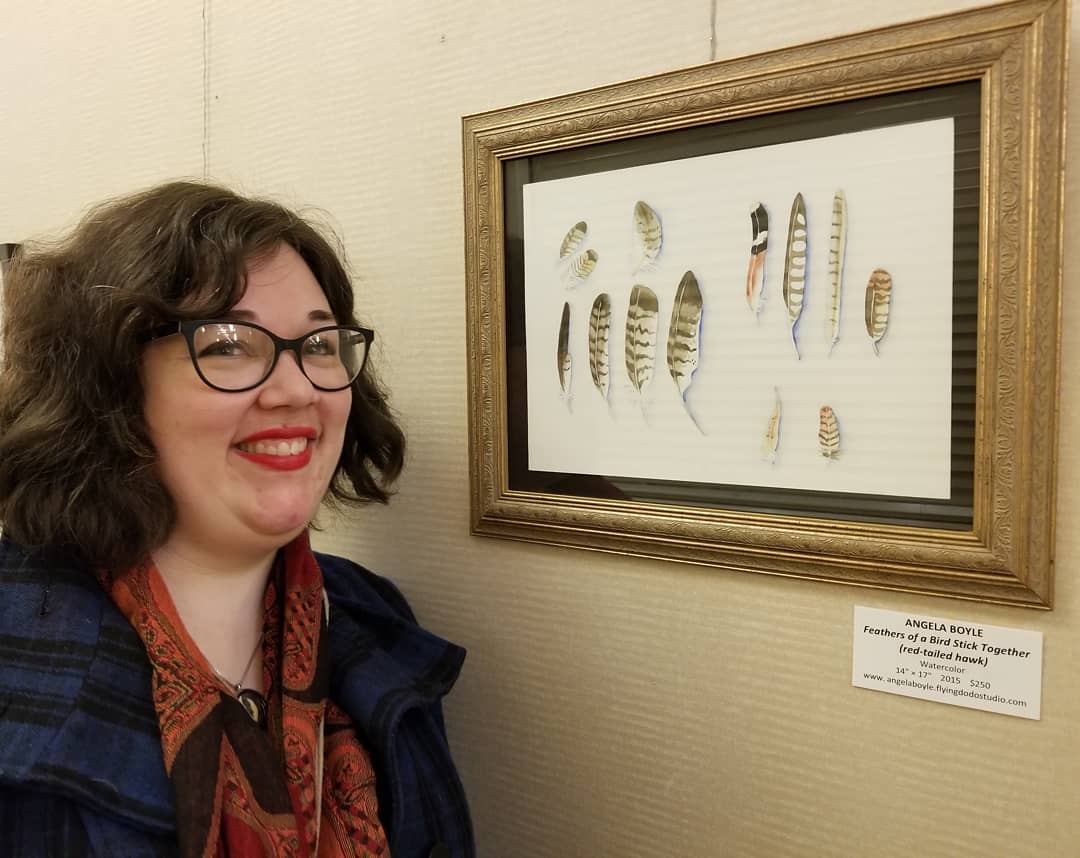 If you are in the Seattle area, Mercer Island is no harder to get to than anywhere else, so I highly recommend getting over to Aljoya and checking out this show. There are a lot of amazing pieces by lot of very skilled artists. Including the president of the Woodland Park Zoo, Alejandro Grajal. He has a beautiful painting of a pair of Cayenne Jays on the first floor (also used on the postcard for the event). And on the second floor, he has an amazing, and huge (like 2×3 feet), drawing of a Colobus monkey that he did using only ball-point pen! I wanted to press my nose against the glass looking at that stunningly subtle piece.