That's the Krismas card we sent out. It is now the last day of 2018, and I feel it has been a successful year for me. I felt like I did nothing, and then I wrote a list of successes for 2018 at the beginning of my new day planner.
Teaching
I taught two university-level art classes at Western Washington University for the graphic design department. It was a bit of a trip because my mom went to school there, in that department, while I was in high school. I taught a class on illustration tools (such as pen and ink) and a class on comics. Both were really fun and I think I would like to do them again. But I might teach them on my own. I will be researching this and sharing what I learn here for $1+ patrons.
Comics
I started Cob (working title). I have completed 27 pages of 96. And the whole thing is laid out. I am going to do another (around) 25 pages next, hoping to thumbnail those in January (which will be pretty packed for me).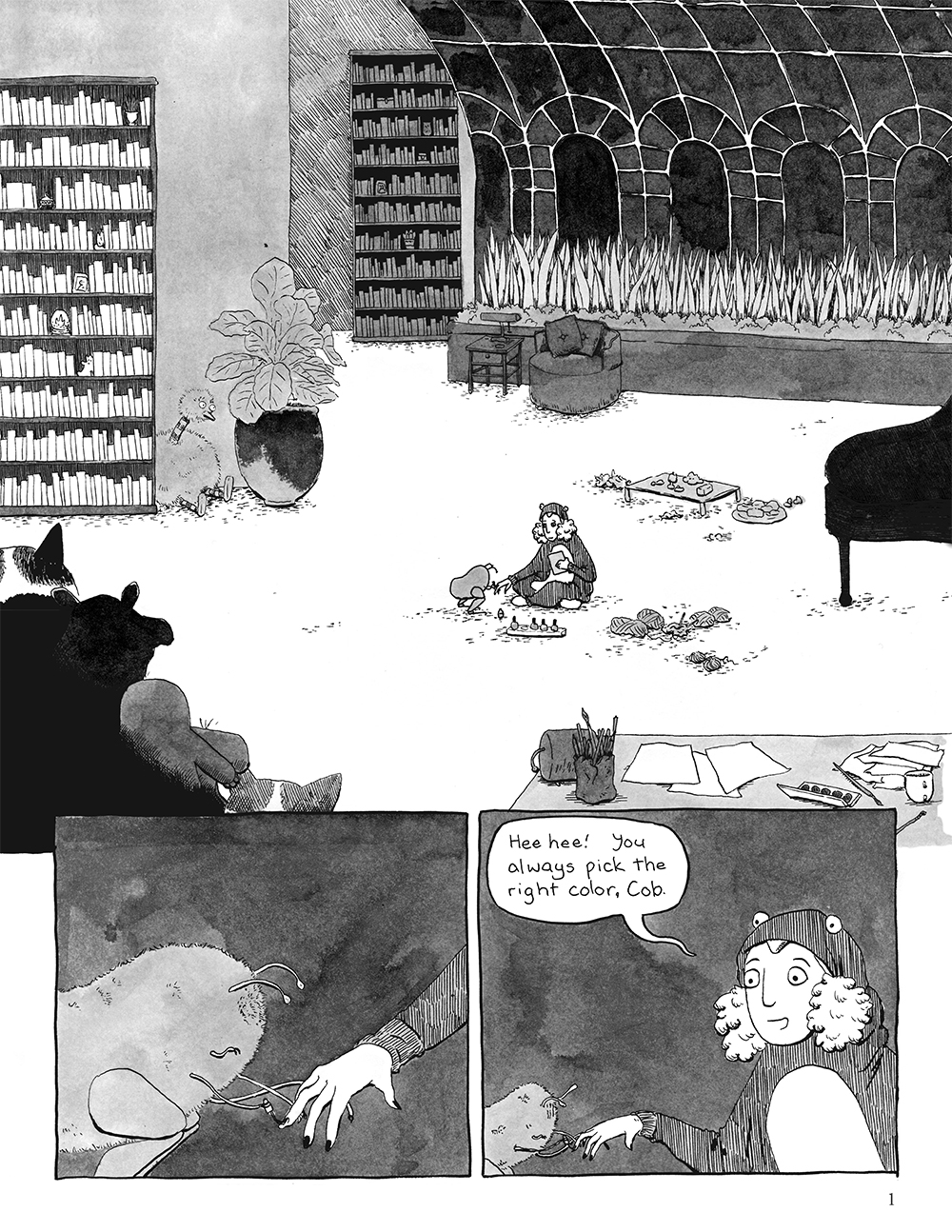 I started the Badger comic, which quickly turned into a murder mystery. I have outlined the story, so now I can get back to doodling on it during TV. I intend it to be a less strict story process. I usually, like in Cob, outline every single page. But this one I am doing page by page.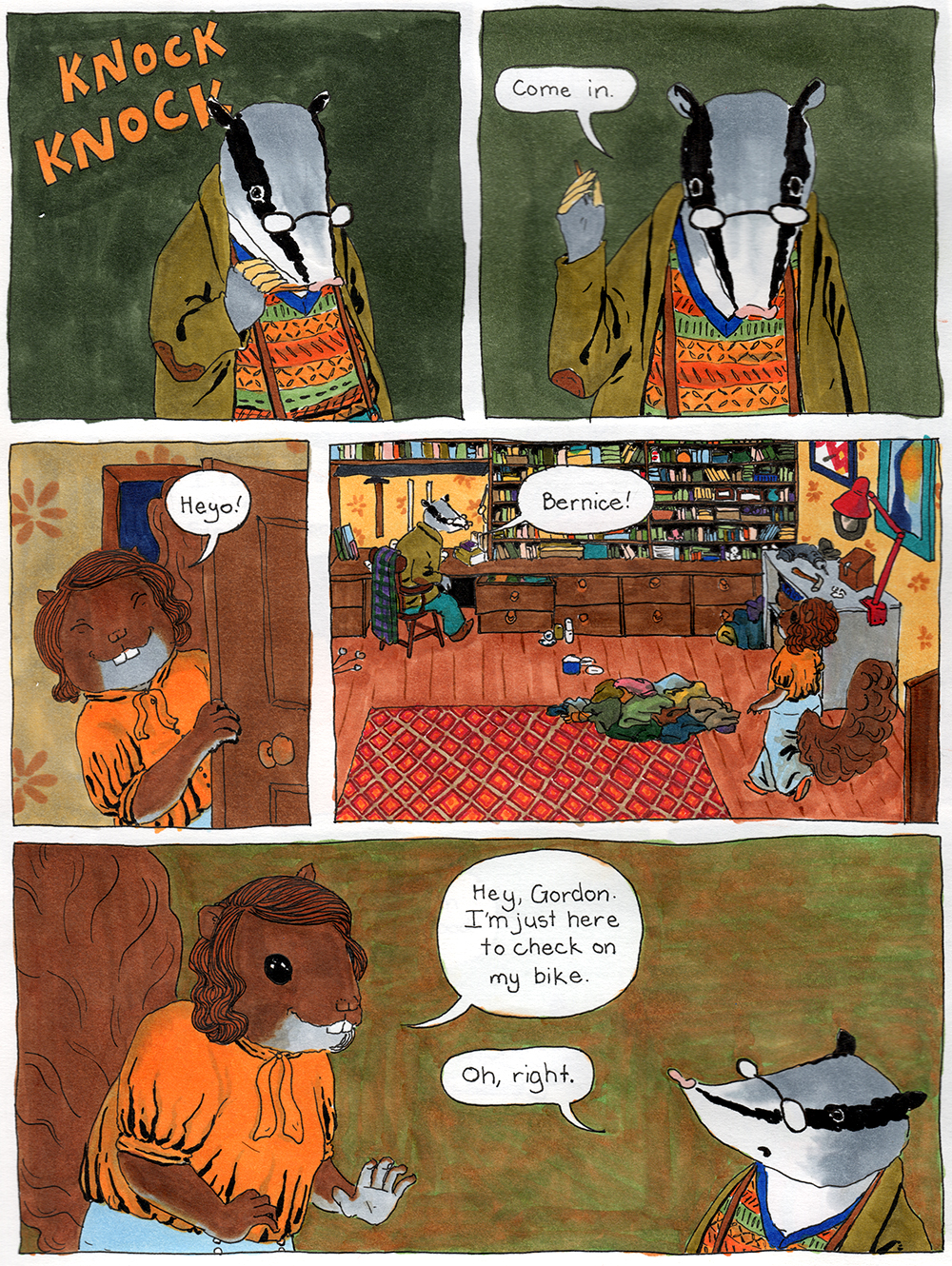 I tabled at Olympia Comics Festival (where I met and chatted with Eric Shanower) and Bellingham Comic Arts Festival. Both were very fun and I plan to do both again in 2019, if BCAF happens again.
I did hourly comics day. 
Publishing
I started the year by publishing Her Blood and Bone, my collection of 2017 Inktober illustrations.
Volume 4 of Awesome 'Possum is out. I think it is the best one. I have thought that about each, so that is a good trend. If I do another, though, it won't come out until 2020 and it might have a more specific theme than "nature." Thoughts?
I finished a small autobio mini comic, The Ants of Our Discontent. I have to admit, there are still ants in the kitchen. Not as many, though.
Four pages of my comic Oooh, Shiny! were published in Raven Chronicles: Last Call. 
I had a comic published in Seven Days, the Vermont alt-weekly. 
Freelance Work
I made enough money through my various jobs—editing, illustration, design, weaver, teaching—to pay for the two months the Abe doesn't work in the summer and to pay for a new transmission in our poor old car. 
I started issue 2 of Artema, written by Rachel Cholst. It is currently half inked on half the pages. I do two rounds of inking, one for the major lines, those that I get in the pencils; and another round for adding in details like hatching and spot black.
I laid out two books for First Second. For two creators I really enjoy. Book three of The Nameless City: The Divided Earth by Faith Erin Hicks is already out. I adore her work and was thrilled to get this assignment. I tried so hard not to read it, but obviously couldn't help it since it helps the job. And I was literally tearing up. Island Book by Evan Dahm is coming out in May 2019.
Personal
I moved into Bellingham! I have never actually lived IN Bellingham. I grew up outside of Bellingham. And when we (Abe and I) moved back to Washington, we moved back to the same place, living with my mom. But now I live within 5 minutes of the post office and the library.
I got a part-time job as a weaver at True North Textiles. It is a fun job and adds to my strange list of jobs. But now I can pay the rent every month without worry.
I cataloged and organized all of our books! With the help of Abe. If I am looking at it right, we have around 600 books (I think we still have a couple boxes that have not been cataloged). We still need two more bookcases though.
I have been learning Dutch on DuoLingo and plan to continue. I do enjoy it.
2019 Goals
I want to keep up my satisfying work. So my goals are:
 – Finish Cob
 – Apply to Creators for Creators
 – Start the Maria comic (again)
 – Finish Artema 2 (this is due by the end of February, so I will definitely complete this)
 – Do at least one job for First Second (this is not really in my hands, but wishful thinking)
 – Apply to 12 anthologies (that's only 1 a month. Can you believe I haven't participated in someone else's open call anthology?)
 – Complete Dutch on DuoLingo (this is part of my work on the Maria book)
 – Read 1 prose book per month. My top picks: 
Schrodinger's Cat trilogy by Robert Anton Wilson
The Moon Is a Harsh Mistress by Heinlein
Grass by Tepper
Roadside Picnic
Hard Fought by Greg Bear
Forever War by Haldeman
Mystery of Metamorphosis
Lab Girl
Journey to the End of the Night by Celine
Siddhartha
Breakfast of Champions by Kurt Vonnegut
Embarrassment of Riches