This illustration was for Anthropophagi by Lucas Cunningham for the Boynton Poetry Contest 2019. Talking with my mom, she said it reminded her of Emily Dickinson's work, so I based the head on her. I could only find one picture of Dickinson online and it is straight on, so here are the reference shots of Abe and me to get that lovely up the nose shot. It's a pretty tricky angle! For me, at least.
From there, I did these sketches. Unfortunately, her nose migrated down a bit in the final from the height in the sketch. The upper right is the only head with wings I liked that I could find online and it is Nelson from The Simpsons. I don't know why that upper left sketch of Emily makes her look like  someone wearing her face as a mask. Yeesh. Nightmarish.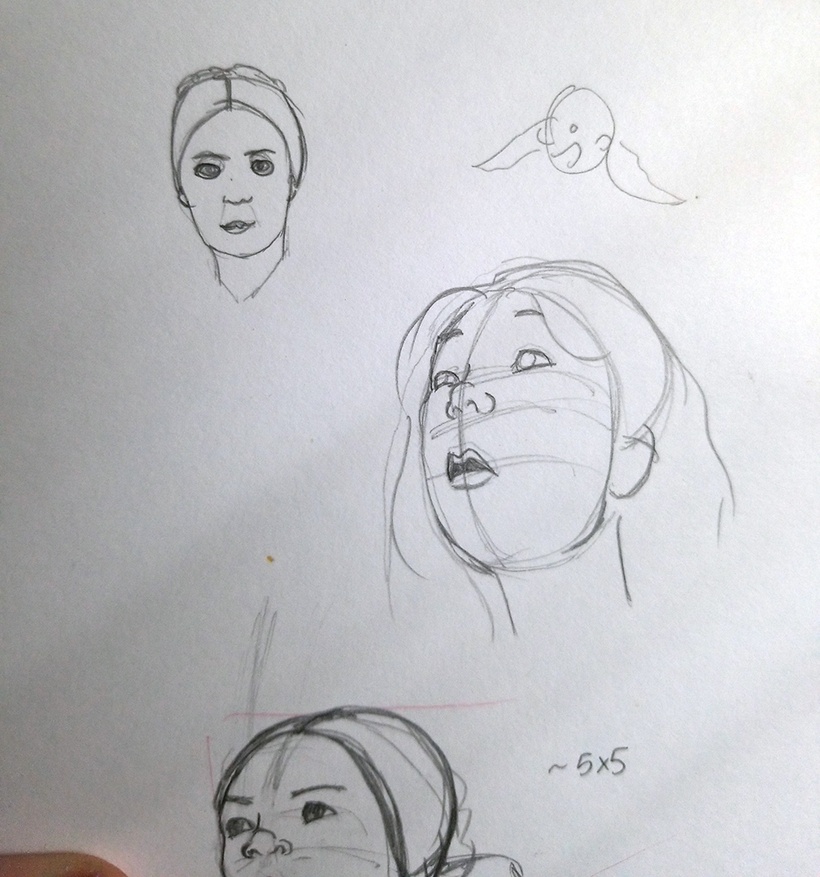 Next I sketched the whole thing at size in red pencil. I refined it with graphite pencil. This is all on computer paper. I needed the final lines to be really dark because I was going to use it on a light box behind really thick watercolor paper.
I used my LED light box to paint the ink on watercolor paper with the computer paper sketch taped on the back. I painted each little feather section separately, giving them time to dry so the segments would be visually separate. When inking with a light box, I get the important bits down as quickly as I can so I can turn off the light. This one took forever though because I was filling in each section instead of simply drawing an outline. 
My initial plan was to do all gray way but then I thought it would be too boring, so I went with my favorite Prussian blue in the background. 
You can also get this illustration as a print over at Society 6. It is also on cutting boards, tote bags, and pillows.