A while back, I did six illustrations to accompany some of the winning poems for the Sue C. Boynton Poetry Contest here in Bellingham, WA. This is always a fun project (this is the second year I have done it this way; I did other years with my mom, Anita Boyle) because you have to come up with an illustration for a poem. Because it is poetry, you don't want to be too literal, so you have to read and think on the poems. I suppose you could say I cheated because I discussed them with my mom, an actual poet. I am definitely not. 
This poem threw me for a loop: Bones by Margaux Barber. It was one of my favorites. I got really excited to do some gross flesh-covered bones. Then I realized that not only would this be displayed on buses and  in libraries throughout Whatcom County, but it was also written by a kindergartener. So I toned it way way back and did some pretty clean bones.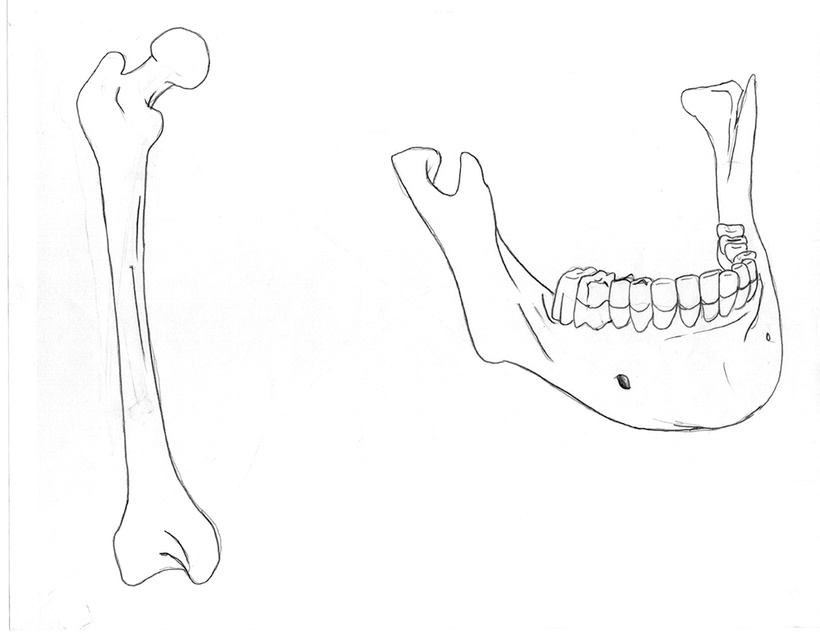 One of the things I like to use this job for is to challenge myself. I try out new techniques and practice old ones. For the bones here, I decided to do straight watercolor, no inks. I have very little patience, so watercolor is hard for me. If you don't wait long enough, your colors will bleed when you don't want them to. And if you wait too long, they won't lay on the paper softly enough. Great when you want a hard edge, but terrible when you want a soft edge. You can tell the paper is completely dry when it lies flat again.
I had a hard time picking a background color and just chose something grossly fleshy using the dropper tool in Photoshop.
These are adult bones. I didn't want to creep people out with children's bones. I also love these teeth, but that person really should have brushed more. Or smoked less? Either way. I also made sure to get that gum line on there. It is subtle, but the color of teeth changes where the gums covered them. At least, for young enough bones. I am not sure about when that difference goes away.