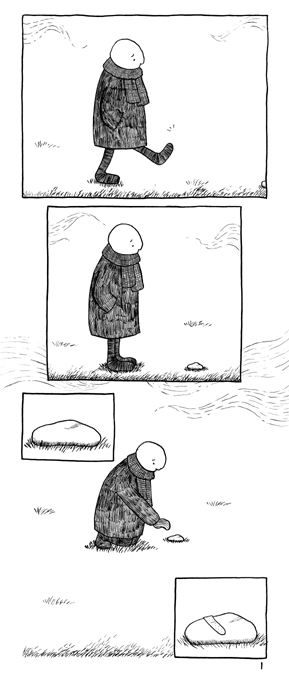 about.
This remains one of my favorite comics. Yes, the art style is very inspired by Edward Gorey. Jim, who came up with the story idea à la the style of Stan Lee, requested the vertical format of half-letter, folded in the opposite direction to the usual.
This was also the first comic of my 2011 challenge. This is a challenge I issued to myself, to make one minicomic every month. I got to eleven, but one of those was full color so I think it counts as two.
Artist and writer: Angela Boyle
Story: James Bertolino
Publication Date: January 2011
Format: BW, 11 inches tall x 4.25 inches wide
Drawn using Speedball ink and a Speedball 102 nib.
Jim Bertolino is a poet and has been a professor at a number of colleges and universities. Despite his illustrious and wide-ranging career, Hardly Kind is the first comic he has to his name. You can read more about Jim and his poetry on his website.