about.
In quiet solitude, a fire-breathing street performer finishes up her act for the day. Or, you can read this comic backward for a completely opposite story.
Creator: Angela Boyle
Publication Date: September 2011
Format: FC, 20 pages, 5.5 inches tall x 4.25 inches wide, hand-sewn binding in red, orange, or yellow
Drawn using Rapidograph technical pens and painted with watercolor on cold-press watercolor paper. This story was created over a long 3-day Labor Day weekend and the next night.
practice, practice.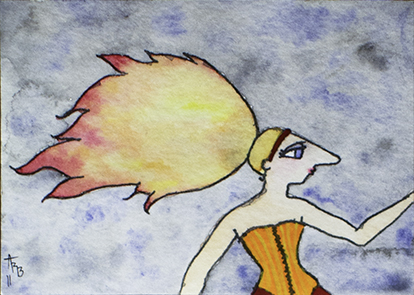 She just came to me one day. I didn't edit her much, if at all. This was my first practice painting of her.
Fire is hard to paint so I knew I would need to experiment a little at least. But since I intended to complete this over a 3-day weekend, I didn't have much time. So I did a couple. This is one.